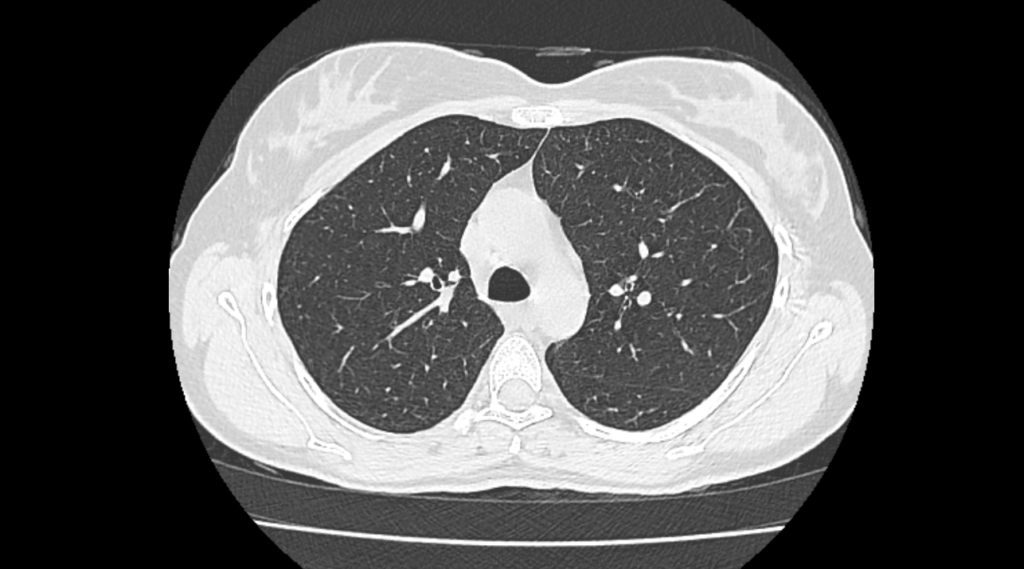 HRCT means high resolution computed tomography.

Diagnosing and assessment of interstitial lung disease, like pulmonary fibrosis, and other generalized lung diseases such as emphysema and bronchiectasis is known as High-resolution computed tomography (HRCT).

HRCT chest examines the entire lung parenchyma.

It helps to diagnose the disorders or diseases related to Lungs like bronchial asthma, allergic diseases, lung cancer,  infections and  injuries.
Through HRCT very thin ( 1 mm) slice high resolution  images are created.
It takes only about 05–15 minutes to perform the same.
It is a simple and painless scan.
HRCT chest is very useful in diagnosing Covid -19 pneumonia.
It detects complications of Covid at the early stage.
HRCT scans do not use contrast
The output normally requires somewhere in the range of 15 and 30 minutes. There are no limitations following the test. You will actually want to get back to ordinary exercises, eat not surprisingly, and drive yourself home.
No special preparation is required
HRCT CHEST Test in Nanded City | HRCT CHEST Test in Pune | HRCT CHEST Test Center, Nanded City, Pune | HRCT CHEST Test | HRCT CHEST Test Near Me | HRCT CHEST Test Center in Sinhgad Road | HRCT CHEST Test Centres in Shivane | HRCT CHEST Test cost in Pune | HRCT CHEST Test Price in Pune | HRCT CHEST Test in Narhe | HRCT CHEST Test in Warje | HRCT CHEST Test in Dhayari
Nanded City Pune | Sinhgad Road | Shivane | Dhayari | Narhe | Khadakwasla | Kothrud |
 UttamNagar | Warje | Donje | DSK Vishva |DSK | Katraj